About CapeCodBeaches.net
Our goal is to be the most complete and accurate Cape Cod beach guide. Finding quality information about the hundreds of beaches on the Cape can be tough. Town websites are often poorly designed and tough to navigate, review websites are subjective or inaccurate, and other online guides haven't been updated in ages and are loaded with outdated information.

This guide has been assembled by locals. We've been to all of the beaches listed here. We've also scoured the web for the opinions and reviews of visitors to the Cape. We regularly review town regulations and fees to make sure our information is accurate and up to date. The listings on this website are summaries of both our research and personal experiences. If you see any information that you believe is inaccurate, please contact us to let us know.
About our rating system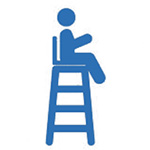 "Lifeguards in season" indicates that a beach is staffed by lifeguards during operational hours in the summer. Please pay attention to signage at the beach however, as lifeguard service can be sporadic and unpredictable in some towns, especially at smaller beaches.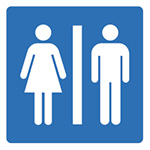 Restrooms or portable toilets are available at most beaches on the Cape. Some towns remove portable toilets and lock restroom facilities during the offseason. A restroom icon on this site indicates that there are restroom options during the summer season.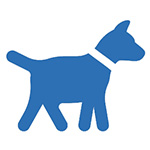 Dogs are banned from almost all public beaches on the Cape during the summer. However, most towns do allow dogs in the offseason. A "no dogs" icon indicates that dogs are never allowed. Check signage at the beach as regulations can change daily due to nesting shorebirds.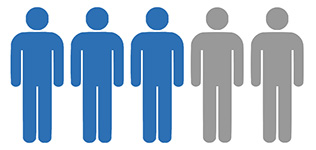 The crowd icon indicates how crowded a beach gets during the summer season. Rating crowds is tricky. What one person considers crowded another might not. More importantly, the timing of your visit plays a huge role in what kinds of crowds you can expect. Mid-day trips will be more crowded than early morning or afternoon trips. 4th of July will be more crowded than a random Wednesday in September. So take these ratings with a grain of salt.

"Light crowds" indicates that parking is almost never an issue and that there's plenty of space to spread out. "Moderately crowded" means you might run into some parking hassles in peak season, and that you're not going to have the whole beach to yourself. If we've given a beach a "Heavy crowds" rating, it's best to arrive early to get a parking spot and you're probably going to be relatively close to your beach neighbors.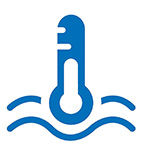 The water temperature icon indicates if the beach has warm water or cool water, relatively speaking. No Cape Cod beach is going to be warm like the Caribbean. So if tropical beaches are what you're used to, every beach on the Cape is going to feel cold. Generally, beaches on the bay, and beaches on the southern shore are going to have warmer water than the beaches on the eastern shore.

Look at it this way: If a beach has a cool water icon, it's going to be cold. Not so cold that you can't swim in it, but cold enough that you'll probably think "Woo, that's cold!".

The water temperature icon will also show whether a beach features salt water, or fresh water.